How to Stop Dogs Jumping Up
Selected Article
"How do I stop my dog jumping up at people ?"
You are dressed in your best, ready to face the Monday morning workload when in bounds Fido. Before you can scream down Fido down your designer gear is adorned with muddy paw prints. Visitors arrive unexpectedly, you open the door with a welcoming smile and whoosh up jumps Fido, knocking poor old granny for six. How many of us have experienced similar? Who is to blame? Not the dog but us humans. Cast your minds back to when big slobbering Fido was that cute ball of fluff jumping up your legs to reach a warm lap in which to snooze.

As humans we constantly give our dogs mixed messages. Our inconsistency in training causes confusion as to how we want our dog to behave. I cannot emphasise enough that from the very beginning regardless of whether the dog is a puppy or adult you are the pack leader and it is up to you to establish firm ground rules.

In fact some dog owners have found it most helpful to draw up a plan of action. Mapping out how you expect the dog to behave and listing which commands you will be using will help to keep the training regulated and on target for your chosen goals.



The usual scenario with puppies is humans making a fuss (well we cant resist them can we?) calling them to us to jump up for a cuddle. When they do jump up they are rewarded by us stroking them and giving lots of attention. NO – do not encourage the puppy to jump up to you. Instead start teaching him to sit before he gets a fuss. He will soon learn that if he wants to interact with you he has to plonk his bottom down first.
Perhaps you have an older dog in which jumping up at people is causing annoyance. First you must decide how you want the dog to behave when greeting humans. Usually owners want their dogs to sit but others have their dogs stand politely waiting or even that their dog runs to get a toy to present to the visitor. A friend of mine owns two Golden Retrievers. As you enter her gate or her front door the dogs both dash around to find a toy to bring to you. They are ecstatic when you then play with them. Of course her garden takes on the macabre as headless teddies litter the lawn. Whatever it is that you want your dog to do you must be consistent and make you must start as early as you possibly can, for example when you first get the dog!

Many people I have visited allow their dogs to jump up at guests while the owner cries: "Oh don't worry he doesn't bite!" Not all humans will enjoy this attention. In fact it can be intimidating and downright terrifying if the visitor is a child!

To be fair to the dog it is only carrying out normal canine behaviour. When one dog meets another they have a good old sniff and poke with their nose to suss things out a bit. Often this will include a lot of attention to the face of the other dog and even licking if submissive.

To greet its master or a visitor they need to jump up to reach the face. In the dog's mind it is only trying to say hello and cannot understand when it is met with your anger and is pushed away. Especially after an 'upbringing' which often may have encouraged and rewarded this behaviour, even if it was just with a "Aaaah, you're a strong girl aren't you?!" Then later when you are settled on the sofa you may find that your dog seems reluctant to approach you.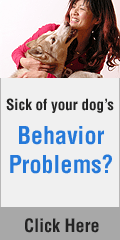 It angered me recently to read in a dog training manual the author advising 'kneeing' the dog in the chest if it jumps up. I strongly advise against doing this as it will totally confuse the animal and could result in more aggressive behaviour. If you learn to understand your dog's mind then you will be able to train him to be a pleasant respectful member of your family.

Decide what you want the dog (when fully grown) to do and be consistent from day one. Don't expect your dog to know that when you are dressed for work his jumping up is any different to when you are out on a walk or playing rough and tumble with him. Dogs can learn to make such distinctions but usually they don't learn clearly enough and many actually spend most of the time guessing what their owner's reaction will be rather than knowing.

Do not punish your dog for greeting you. He is only doing what is natural canine behaviour. Instead teach him how you want him to behave then give him loads of love!