American Bulldog Dog Breed
This relative of the English Bulldog would be extinct were it not for the efforts of John D. Johnson who resumed breeding American Bulldogs upon returning from World War II.
Originally known as the Southern White, the Country Bulldog, and the White Bulldog.
Dog Breed Profile

America

Fighting and bringing down bulls, hunting and guarding plantations and livestock.

Mastiff

Dog, 55cm – 70cm. Bitch, 52cm – 65cm

Dog, 32kg – 54kg. Bitch, 27kg - 45kg

15-16 years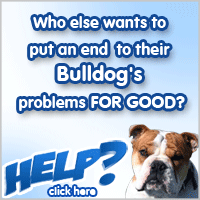 The American Bulldog needs plenty of vigorous daily exercise. They do very well in Schutzhund and other canine sports and make excellent jogging companions.

The American Bulldog puppy or adult dog both thrive on a natural home-prepared diet. Quantities should be in proportion to the amount of exercise the dog needs, and reduced accordingly as these dogs can put on weight quickly during inactive periods.

The most prevalent health issue is hip or elbow dysplasia followed by eye and skin problems. Health problems can be mostly avoided by only purchasing puppies from reputable breeders.

The American Bulldog differs from its English cousin in being more agile and faster. This is an extremely muscular and powerful dog with strong back legs that enable it to jump up to six feet high in the air. The head is square and broad with muscular cheeks and a strong, box shaped muzzle. There is a characteristic furrow between the eyes while the ears can be rose-shaped, half-pricked or pendant. The body is muscular and the tail is thick at the base tapering to a point. The short coat is harsh to the touch and the coat colours are solid white/all shades of white, all shades of brindle, brown, red or tan. All in all the American Bulldog is a powerful looking dog with a steady, yet often comical expression.

American Bulldog Dog Breed Summary:
This dog is often confused with the American Staffordshire Terrier and the American Pit Bull Terrier.



The American Bulldog is NOT banned in the UK under the Dangerous Dogs Act 1991, however if you own one or are thinking of owning one, we would advise you to ensure you will receive accurate paperwork as the authorities may well have problems distinguishing this dog from dogs which are banned in the UK. Further to this, many owners of banned dogs use the term American Bulldog to attempt to fool people into thinking their Pit Bull is not a Pit Bull. This makes life harder for owners of the American Bulldog as it blurs the very clear line between the two breeds.

Today's American Bulldog should be brave and determined but not overly aggressive or nervous. They do have dominant personalities and are physically strong but are also very inquisitive and can be very comical as they caper and frolic around.

The American Bulldog's protective instinct means it needs suitable socialising and firm training from an early age. If undertaken early and with a sensible and positive attitude, American Bulldog training can be a very enjoyable experience and one which is easier than with many other dog breeds.

They are obedient and highly sensitive to their owner's voice but can also be stubborn and unpredictable. They need an owner that can take control of any dominance issues and implement a firm and consistent training regime to raise a well-balanced family
companion which, if done correctly, will be a
joy to own and train.