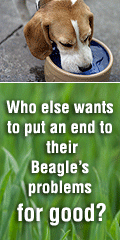 Great Britain

The Beagle was used to hunt hares, game birds and rabbits. Today used more as a companion dog.

Hound

Bitch 33cm-40cm., Dog 33cm-40cm.

Bitch 8kg-14kg., Dog 8kg-14kg.

9-15 years

Medium-high. Despite being small, the Beagle is a very active dog and not as attentive to balls and toys as some breeds such as the Collie or Spaniels. Unless they have been well-trained to heel and recall, they may need to spend more time on the end of a lead than some other breeds as, being scent hounds, they can often run off to do their instinctive duty whenever they smell anything interesting. Two long daily walks are a must for this bundle of energy.

The Beagle is not a fussy eater and thrives on any normal dog food though we always recommend using food which is as naturally produced as possible.

A very healthy dog with few breed problems. Some lines can be prone to heart disease, epilepsy, and eye and back problems. They can be prone to "Chondroplasia," (bowed or warped front legs). Care must be taken to keep the ears clean and dry.
The Beagle is a strong, sturdy little dog. Their appealing expression is probably what makes this little dog a popular family pet. They have short, dense coats which are weather resistant and easy to care for. The Beagles comes in tri colours of black, tan, and white. The head is fairly long with pendulous, round tipped ears. The eyes are hazel coloured or brown, and they have a short back and short, strong legs. The tail is set moderately high and held with a slight curve.




Beagle Dog Breed Summary:





The Beagle is a lovely, easy to care for, family pet.

Being one of the scent hounds, the Beagle is full of energy. They love playing with children and can be very mischievous but extremely amusing at the same time.

The Beagle can adapt to many different environments, but because of their playful nature they do not like being left alone for long periods. They are good with other animals.

The Beagle is a very intelligent dog so can easily become bored.

Grooming requirements are minimal. A quick daily brush will remove any loose hairs and debris and keep them looking in superb condition.

This hound does have a long, low-baying bark and can be quite noisy. Proper Beagle training in small doses from an early age will easily eliminate any problems this breed can bring.

The Beagle is a superb pet dog with working abilities and a good solid character, and Beagle puppies are some of the cutest pups around!