Dachshund Dog Breed Profile
The Dachsund gets its name from the German language and the word Dachshund means "Badger Dog."
Weiner dog, the Hot Dog, and Dachsie.
Dog Breed Profile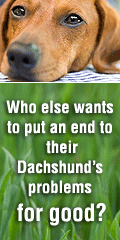 Germany

Originally bred to hunt Badgers. Later they hunted hares, foxes, stoat, ermine, and weasels by digging deep into their burrows.

Hound

Normal (standard) 35cm-45cm., Miniature (dwarf) 35cm., Toy 30cm.

Normal (standard) 9kg., Miniature (dwarf) 4kg., Toy 3.5kg.


12-15 years

These are active little dogs and have great stamina despite being small. They need a daily walk or a play session. Jumping should be avoided as they are prone to spinal problems.

Feed twice daily. Care must be taken to adhere to recommended amounts as this dog has a tendency to overeat.

The Dachs have major spinal problems. Their elongated body means the spine is prone to injury, such as ruptured discs, often leading to paralysis. They are also prone to heart disease, diabetes, and epilepsy.

The Dachshund has an elongated body with short powerful legs. They also have an elongated neck and head. Their eyes are bright and they always look alert, and their ears are long and pendulous. Overall the Dachshund looks muscular with a well developed chest. The back is straight and the tail is long carried in line with the back. The Dachshund comes in a variety of colours, black, tan, fawn, yellow, chocolate, grey and brindle or dapple.




Dachshund K9 Obedience Dog Breed Summary:



The Dachshund is an extremely lovable breed of dog.

They enjoy running around and playing even in a small yard. They are brave, intelligent dogs and despite their diminutive size, they are determined little dogs with strong hunting instincts.

It is hard to be firm with such cute dogs but they do need to be trained as they are smart dogs that love to learn.

The Dachshund is extremely good with children but due to their size they do get injured by being stepped on.

Potential owners must research the breed lines to obtain a healthy dog.